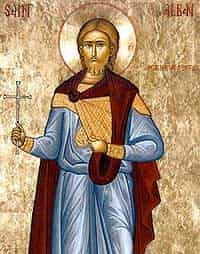 St.Alban
(Reportedly the first martyr in England during the persecutions by Emperor Diocletian)
The story of Alban, a pagan by birth, was recorded by the Venerable Bede in his Ecclesiastical History of the English People. A resident of Verulamium (now St. Alban's in Hertfordshire, between Birmingham and London), Alban gave shelter to a Christian priest who was trying to escape the persecutions. So impressed was Alban by the man's humble demeanor, prayer and wisdom that he converted and was baptized. Authorities learned that the priest was hiding in Alban's house, and sent soldiers to arrest him. Alban donned the man's clothing, enabling him to escape, and was arrested in his stead.
He was taken before the governor and repeatedly refused to renounce his new faith. He was severely scourged and tortured and condemned to die by beheading. The route to the execution site required Alban and his guards to wade across a river. There were so many onlookers that progress was impeded. Tradition holds that Alban prayed, and the waters of the river divided to create a dry passage. The executioner was so moved by this miracle that he converted himself, and was martyred along with Alban. When the party reached the hill where the executions were to take place, a fountain miraculously sprang up out of the ground. The priest whom Alban had sheltered was captured several days later and stoned to death in Redbourn, near Verulamium. Alban has been venerated in Britain since the fifth century, and was even known in France.
Other accounts of his life have been written, some stating that he had been a soldier. A church was built on the site of the execution and became famous for miracles. A monastery was built there later.