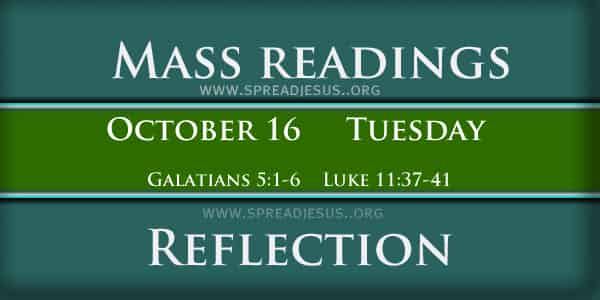 Catholic mass readings
and Reflection
October 16 Tuesday
Galatians 5:1-6
Christ set us free, so that we should remain free. Stand firm, then, and do not let yourselves be fastened again to the yoke of slavery. I, Paul, give you my word that if you accept circumcision, Christ will be of no benefit to you at all. I give my assurance once again to every man who accepts circumcision that he is under obligation to keep the whole Law; once you seek to be reckoned as upright through the Law, then you have separated yourself from Christ, you have fallen away from grace. We are led by the Spirit to wait in the confident hope of saving justice through faith, since in Christ Jesus it is not being circumcised or being uncircumcised that can effect anything only faith working through love.
Luke 11:37-41
Jesus had finished speaking when a Pharisee asked him to dine with him; so he went in and sat at table. The Pharisee was astonished to see that he did not wash befQre dinner. And the Lord said to him, 'Now you Pharisees cleanse the outside of the cup and of the dish, but inside you are full of exortion and wickedness. You fools! Did not he who made the outside make the inside also? But give for alms those things which are within; and behold, everything is clean for you.'
Reflection . .
For the Jews, the washing of hands before meals was considered more of a religious observance than just cleanliness or hygiene. The Pharisee who invited Jesْs for the dinner was focusing his attention more on the ritual fulfilment than on the needs of the person. ' By his reaction to Jesus' apparent failures, he elevated himself to the position of a judge, a position that belongs to God alone. What counts beautiful before God is our concern for people and our inner goodness and generosity to understand and to forgive. Such interior disposition makes our religious practices meaningful and rewarding. What kind of balance do I keep between my religious practices and my inner goodness and generosity?