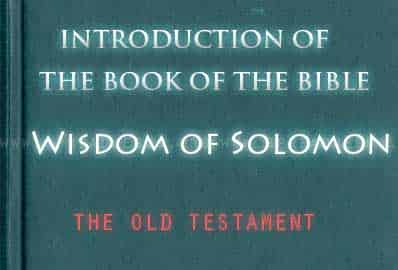 The book Of The Bible Wisdom of Solomon
The Wisdom of Solomon was not written by Solomon himself, but by a learned Alexandrine author sometime within the second to first century BCE. The purpose of the text seems to be a sympathetic defense of the traditional Jewish faith. Wisdom is personified and emanates from God's power and glory (7.25-26, 29-30). Various themes are addressed in the book including the immortality of the soul and the danger of idolatry. The Christian tradition sees the focus on the "Word" (9.1) and the Holy Spirit (1.5-7; 7.22-23; 9.17) as a prefiguring of the revelation of the Trinity in the NT. Wisdom is read at various times throughout the liturgical calendar.
Passages are read during Cycle A on the Sixteenth and Thirty-Second Sunday of the Year; they are read during Cycle B on the Thirteenth, Twenty-Fifth, and Twenty-Eighth Sundays of the Year. Also, passages from Wisdom are read at Mass on weekdays of Year I on Monday through Saturday of the Thirty- Second Week in Ordinary Time. The text about the suffering of the righteous man is read every year on Friday of the Fourth Week of Lent. This text, like the Servant Song in Isaiah (52.13-53.12), was interpreted by early church fathers as a prediction of Jesus' crucifixion.