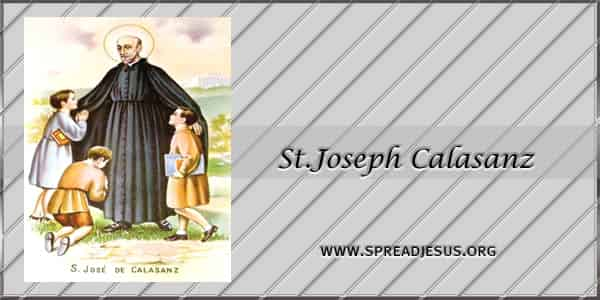 St Joseph Calasanz Confessor (1556-1648)
Born on 11 September 1556 in Calasanz castle in Aragon, Spain, Joseph studied philosophy, law and theology. Ordained priest in 1583 he did pastoral and administrative work for 9 years, and was made theologian and confessor to the Bishop of Figuera and Vicar General of Trempe. But in 1592 a vision directed him to go to Rome. His father having died, he gave away ail his inheritance; arnving penniless in Rome, he tound that, as a result of numerous epidemics, large numbers of boys and girls had been orphaned and were growing up on the streets in utter neglect.
Joseph joined the Confraternity of Christian Doctrine, which had been organized 30 years before, and seeing that a more general education was needed, founded the first free public school in Europe. Other Priests associated themselves with his work and, with financial support from the Pope and public-spirited citizens, his school soon cared for 1,200 pupils. The Priests lived in community and formed themselves into the Clerks Regular of the Pious Schools, or Order of Piarists. They administer today over 300 schools for the poor and colleges for the middleclasses in Central Europe, Spain and Italy.
For 50 years he made it a point to visit the Seven Churches of Rome, daily. His last years were saddened by unjust persecution and sickness, but he bore all with such exemplary patience as to merit the title of a "second Job".
He died on 25 August 1648 and was beatified in 1748. Canonized in 1767, St Joseph Calasanz was declared "heavenly patron of all Christian schools" by Pope Pius XII.
Reflection: "If in serving God you seek your own convenience, you are not serving God but yourself." (St Joseph Calasanz).