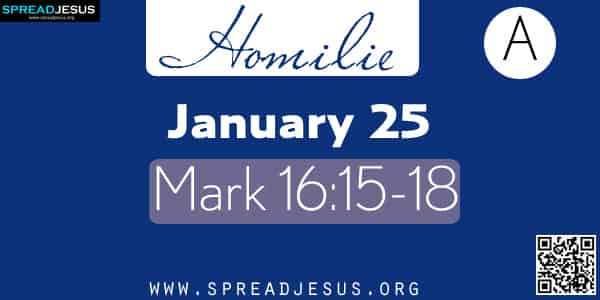 HOMILIE
January 25(A)
Conversion of St. Paul
Mark 16:15-18
15 And he said to them, "Go into all the world and preach the gospel to the whole creation.
16 He who believes and is baptized will be saved; but he who does not believe will be condemned.
17 And these signs will accompany those who believe: in my name they will cast out demons; they will speak in new tongues;
18 they will pick up serpents, and if they drink any deadly thing, it will not hurt them; they will lay their hands on the sick, and they will recover."
19 So then the Lord Jesus, after he had spoken to them, was taken up into heaven, and sat down at the right hand of God.
20 And they went forth and preached everywhere, while the Lord worked with them and confirmed the message by the signs that attended it. Amen. (Nav)
The context:
Today' Gospel passage describes the Ascension scene. Far from having left us on our own when He ascended into heaven, Jesus is even closer to us now. He is with us at all times and in all places, giving us the energy of the Holy Spirit to preach His Good News of salvation by bearing witness to Him.
In today's Gospel Jesus gives His final message, final instructions, final promise, and final blessing to His Apostles. While describing the Ascension, Mark focuses our attention away from the spectacle and upon its meaning. Jesus was taken up immediately after giving His missionary charge, with official witnesses present and observing. His visible presence ended when He entered into God's own realm. Heavenly messengers reaffirmed the Lord's parting words and urged Apostles to prompt obedience. It is clear that the Apostles believed what Jesus commanded because after the Spirit came upon them at Pentecost they went forth to do exactly what He had told them to do, and they discovered that all His promises were being fulfilled.
Life message:
1) We need to be proclaimers and evangelizers: In today's Gospel, Jesus gives His mission to all believers: "Go out to the whole world and proclaim the Gospel to every creature." This mission is not given to a select few but to all believers. To be a Christian is to be a proclaimer and an evangelizer. There is a difference between preaching and proclaiming. "We preach with words but we proclaim with our lives." No one is excluded and all are welcomeWe are also reminded that while the Lord gives the mission to all, He does not expect us to rely only on our own resources to fulfill that mission. The mission is accompanied with the power that is given to all those called upon to fulfill that mission. (Fr. Tony)