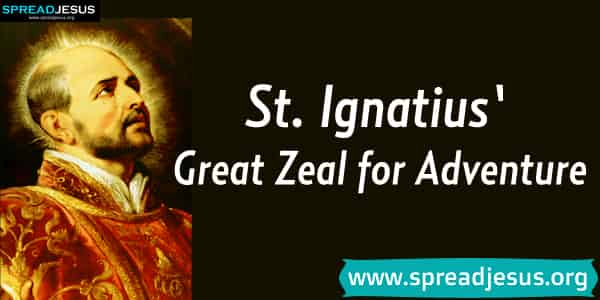 St. Ignatius' Great Zeal for Adventure :
Ignatius was born in 1491 at his ancestral castle of the Loyola family in the province of Guipuzcoa in Spain to Beltran Yanez de Onaz y Loyola and Marina saenz de Iicona y Balda, who were of illustrious extraction. They had three daughters and eight sons, and Ignatius was the youngest among them. He became a page, personal attendant, in the household of Juan Velazquez, who was the treasurer to the King of Castle. Here he received his courtly education and accompanied his patron on his travels. During this period of his life, Ignatius did not shun from sins; he was reckless in gambling and in dealing with women; he read a number' of books on chivalry and romance.
Unfortunately, when King Ferdinand died in 1516 and was succeeded by his grandson Charles of Burgundy, Velazquez lost his position and influence at the court, and the following year he died in great debt. Ignatius then joined the army of Antonio Maurique, duke of Najera and Viceroy of Navarre. While defending Pamplona, the capital of Navarre, he was wounded in his legs.