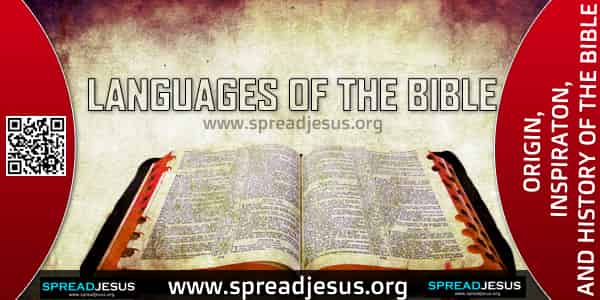 LANGUAGES OF THE BIBLE
The books of the Bible were originally written in three languages: Hebrew, Aramaic, and Greek. Aramaic is a branch of the Semitic languages, and was the language used in Palestine in the time of Christ. It is the language Christ spoke. Hebrew is a Semitic language which originated in Canaan and which was passed on by Abraham and his descendants, reaching its greatest glory in the reigns of David and Solomon. It was the language of the Holy Land until about the 3rd Century B.C., when it was supplanted by Aramaic. The Greek language as used in the Bible is not the classical Greek as we know it today, but a dialect spread throughout the known world of the time by conquests of Alexander the Great.
Most of the books of the Old Testament were written in Hebrew, while all of the New Testament, excepting Matthew, was written in Greek. The Book of Wisdom and 2 Maccabees were also written in Greek. Portions of the Book of Daniel, Ezra, Jeremiah, and Esther, and all of Tobit, Judith, and the Gospel of St. Matthew were written in Aramaic.